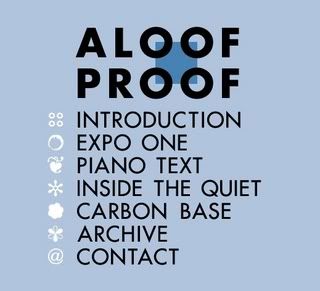 After several months of labor intertwined with periods of my languid laziness,
sunhede and I have finally finished the Aloof Proof informational site:

http://www.aloofproof.com

On it, you will find all the information we've been able to cull about this elusive artist and his label, Carbon Base. We have also included sound samples for each track on each CD. We hope to increase the amount of information with the help of people who visit the site—please feel free to drop me an email or message here on LJ if you've any info to contribute. Hope you like it!

Crossposted to
ambient_music.